In a ceremony attended by Deputy Mayor of North Lincolnshire Cllr Janet Longcake, the first homes at Lakeside North – located near Queensway to the south-east of the town centre – were officially handed over to the new residents. Both families have recently moved into new three-bedroom homes at the scheme, and as part of the handover received a Start Living 'Welcome Pack'.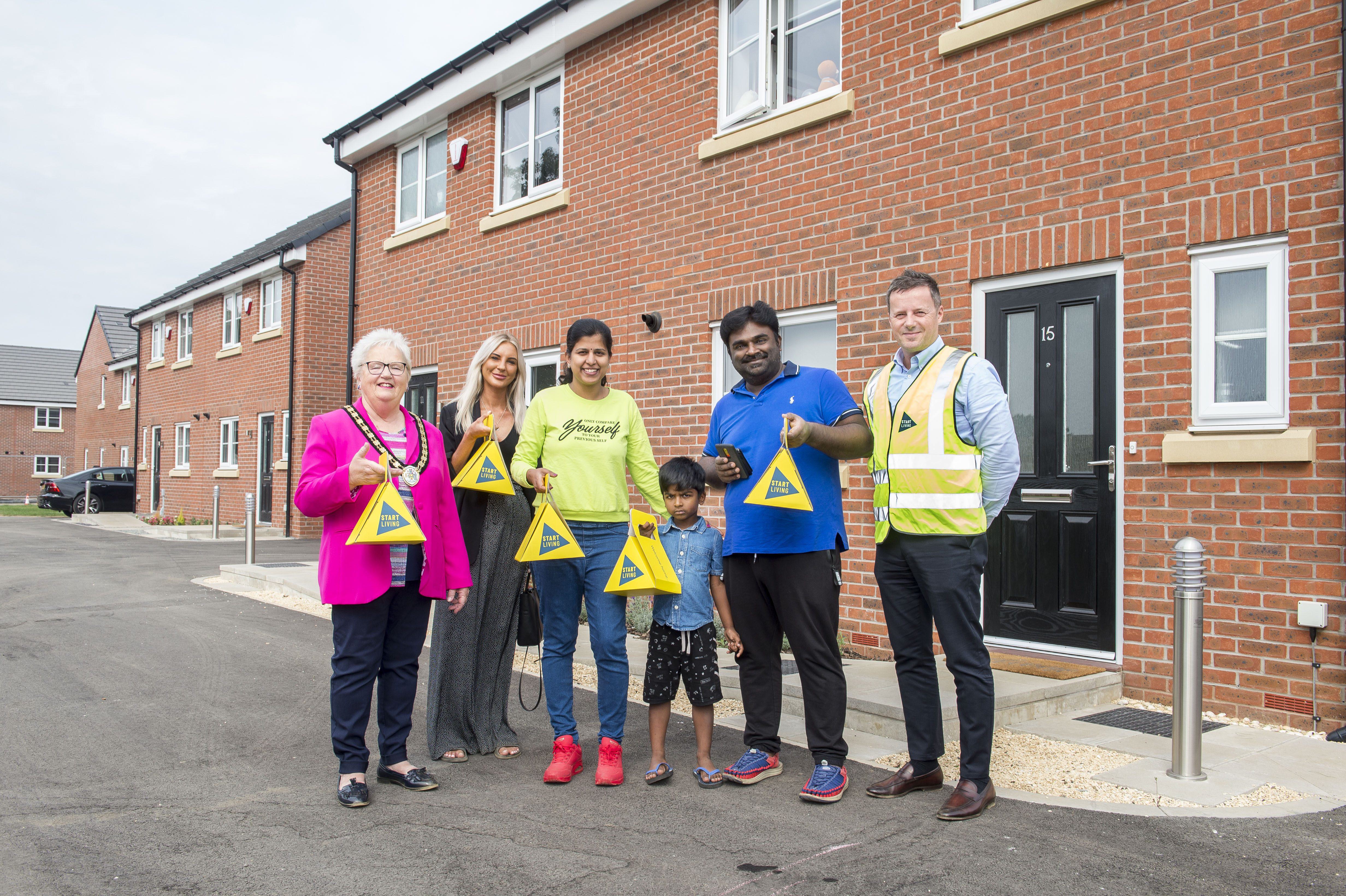 The new residents include Mr Premshankar Pandian Pandi Nadar Kannan, an emergency medication registrar at Scunthorpe Hospital, and Mrs Kayathri Kaleeswaran Sundararajan, together with their son. Also welcomed as part of the ceremony was care support worker Christine Whooley and her two children.

Start Living is a new company focused on providing family homes to rent across the UK. A joint venture between leading UK bank Gatehouse Bank PLC and global asset management firm TPG Real Estate Partners, Start Living is targeting a nationwide portfolio of over 2,500 homes.
Lakeside North was the first Start Living site to make homes available to residents, with three further schemes currently under construction in the West Midlands and Nottinghamshire. Additional developments are currently in the process of being acquired.
Start Living offers two, three and four-bedroom homes in areas that provide a high level of family amenities such as schools and leisure facilities. They typically form part of new housing schemes developed by third-party housebuilders and are indistinguishable from those available for private sale.
Paul Stockwell, Chief Commercial Officer at Gatehouse Bank, said: "Welcoming the first families to Lakeside North is a major milestone for Start Living, with even more residents arriving as work completes on the remaining homes at the scheme. We take pride in offering modern, energy-efficient houses in locations offering fantastic family amenities and as such Lakeside North is the ideal place for the first Start Living residents to move into their new homes."
Cllr Janet Longcake, Deputy Mayor of North Lincolnshire, added: "Bringing high-quality homes to the people of North Lincolnshire is an absolute priority for North Lincolnshire Council. Professionally run rental properties play a key role for those that are not yet able to buy or wish to retain the flexibility that renting provides. We welcome Start Living's Lakeside North scheme in Scunthorpe as a key part of the town's housing mix and look forward to the completion of the remaining homes."
- ENDS -
For media enquiries, please contact:
Start Living
Andrew Jefford, Innesco Tel: 07986 116 234 Email: andrew.jefford@innesco.co.uk